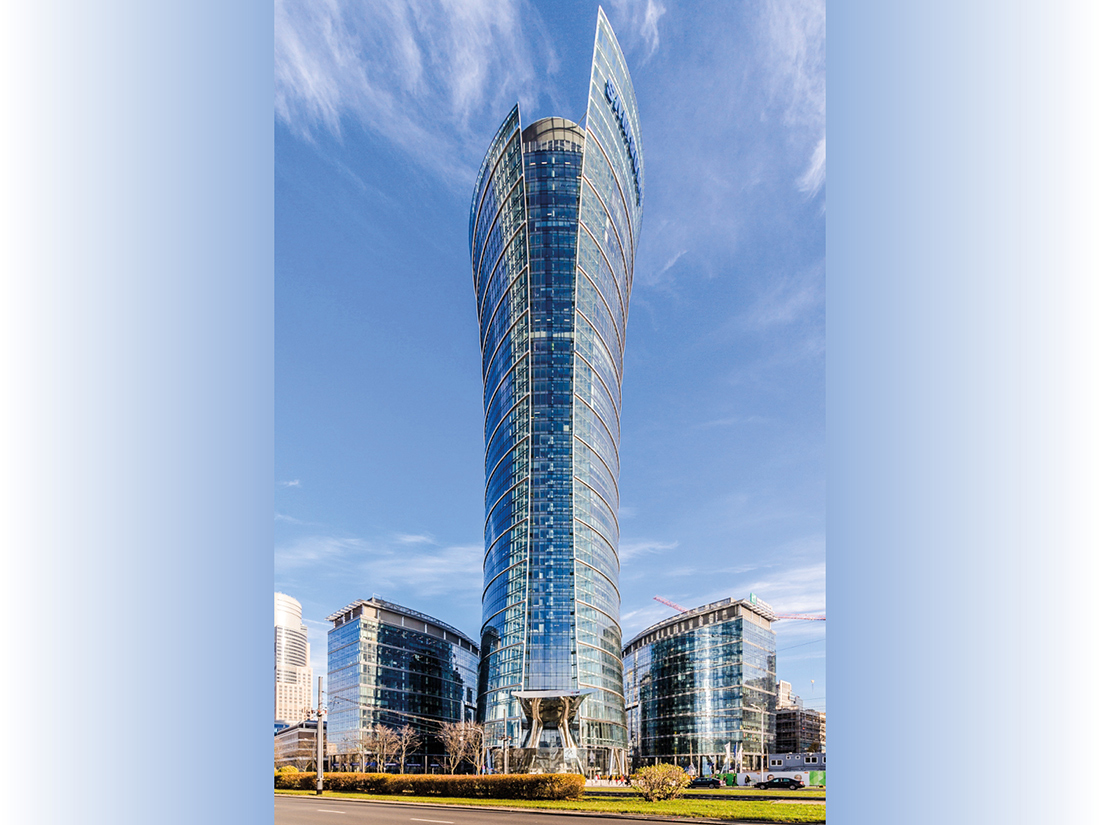 Warsaw Spire Tower sold for EUR 386 Million to IMMOFINANZ
Ghelamco and Madison International Realty, which are equal owners of Warsaw Spire, have announced the sale of all their stakes in the building. Ghelamco Poland's flagship project has now become the property of Immofinanz. The transaction value amounts to EUR 386 million, which is a new record on the Warsaw office real estate market.
The contract of sale of building A in the Warsaw Spire complex between the present owners – Ghelamco and Madison International Realty – and Immofinanz has been signed. The skyscraper with spires reaches 220 m (49 floors) and its leasable office space is 65,000 sq. m. The building is fully leased; its tenants include Goldman Sachs, Samsung, JLL, Mastercard, Shire, The Heart, Daftcode, Panattoni and Ghelamco Poland.
Warsaw Spire is one of Ghelamco's flagship projects as well as the highest office building in the CEE region. In 2017 Warsaw Spire won the MIPIM Award as the Best Office & Business Development, the most prestigious award in the real estate industry worldwide.
Warsaw Spire is an extremely attractive property for investors. In 2017 Ghelamco completed a transaction for the sale of Building B, which hosts Frontex headquarters for more than 100 million euros. One year later the same investor purchased Building C also for approx. 100 million euros. Madison International Real Estate Liquidity Fund VI LP became an equal owner of the tower in the Warsaw Spire complex in April 2018, when it acquired a 50% stake in the project from Ghelamco.
"I am very proud of the Warsaw Spire project. It has been appreciated not only by top tenants, but also key players on the financial markets. Warsaw Spire has redefined Warsaw's business centre and has become an icon of the dynamically growing capital. An integral part of the building is Plac Europejski, which is one of the best public spaces created in Poland. We wish and believe that the new owner will continue the success of this place as a centre of Warsaw's gravity,"
says Jeroen van der Toolen, Managing Director CEE, Ghelamco. 
Warsaw Spire started the development of a new, vibrant part of Warsaw, a new business district. Ghelamco continues the development of this area by building new projects here: three skyscrapers in The Warsaw HUB complex, as well as a 200-metre-high Warsaw UNIT tower.
"A new business centre of Warsaw is rising right in front of our eyes. Offices, hotels, flats, stores, food amenities and attractive public spaces are emerging in the direct vicinity. I think that in the near future the place will become a showcase of the modern capital,"
adds Jeroen van der Toolen, Managing Director CEE, Ghelamco.
"We are excited to have successfully completed the sale of Warsaw Spire tower to IMMOFINANZ. Ghelamco, who have proven themselves to be true experts in the Polish real estate market and excellent partners to work with, plus our thesis around Warsaw's strong yield relative to other Tier 1 European cities, has allowed Madison to enter this new market. We continue to look for interesting opportunities after our recent investment into Capital Park, as we consider Poland an attractive investment market for our firm,"
adds Matthias Cordier, Managing Director, Madison International Realty.
"The Warsaw Spire tower strengthens our position as one of the leading providers of first-class office solutions in Warsaw and represents an optimal combination of high quality, superior infrastructure and a well-known tenant mix. This office tower is an excellent addition to our standing investment portfolio and will also significantly strengthen IMMOFINANZ's earning power over the long-term,"
comments Oliver Schumy, CEO, IMMOFINANZ. 
In the transaction Ghelamco and Madison International Realty were represented by CBRE, JLL and Greenberg Traurig. IMMOFINANZ was represented by Magnusson law firm.
"The sale of Warsaw Spire tower to IMMOFINANZ illustrates the depth of investor demand for prime products in the Polish capital, which is now one of the most dynamic occupational markets in Europe. The continued record net absorption, which is outstripping deliveries and is ultimately leading to falling vacancy and upward pressure on rents, is making this one of the most attractive and liquid markets for international capital. Investors are recognizing this unique opportunity and subsequent yield compression is inevitable in the coming months,"
says Sean Doyle, Head of Investment Properties, CBRE.
"The transaction confirms that the Wola district is the leading office investment location in Central and Eastern Europe, with Warsaw Spire being one of the best office projects in the CEE region. This deal is good news for developers who are building prestigious office projects in Poland and CEE. We are currently talking with other investors who are interested in completing their portfolio with office schemes that are being built in the new business centre of Warsaw, whose great location is encouraging a high level of commercialization. A fully leased Warsaw Spire, with its timeless architecture and a very strong portfolio of tenants, is a great example of such projects," says Tomasz Puch, Head of Office Investment, JLL.